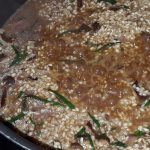 Yesterday I had oral surgery. Planning for this led to me first discovering the phrase "mechanical soft" in regards to the types of foods to eat post surgery. I have cooked for folks with mouth issues, either due to diseases or surgery in the past, but somehow never heard the phrase. The basis is things that require little to no chewing. The poster in the doctor's office showed mashed potatoes, scrambled eggs, macaroni and cheese and the like. I hoped to manage a bit better than that, I am a chef after all!
I mentioned a few other menu ideas in my initial consultation, just to make certain I wasn't missing something critical about the diet. I first noticed the lack of veggies and the heavy amounts of dairy, since this is following up day one, "soft and cold" which was ice cream, yogurt, pudding and jello. Thinking of my lactose intolerance and my many vegan pals had me cringing already. I mentioned hummus, guacamole and creamed spinach and all were okayed quickly.
Before surgery I wasn't certain how much energy I would have for cooking so I made vegetable broth from all the harder veggies I had in my 'fridge and turned some gorgeous piopino mushrooms into Three Mushroom Risotto to have on hand. Thank you Schenectady Greenmarket for the wonderful produce options I am blessed with!
Three Mushroom Risotto
Arborio Rice
Porcini Stock, warmed
Butter
Shallot, minced
White Wine, if desired
Piopino Mushrooms, diced
Tarragon, snipped
Truffle Oil
Parmesan Cheese
I made a huge batch, but normal folks will likely need one to two cups of rice and double that for stock.
Chicken, Vegetable or Beef stock is fine if you prefer, but I like the richness of porcini powder in anything mushroom based so I just mix it with water to use as a stock.
Heat one to two tablespoons of butter and a dash of truffle oil in a large pot or dutch oven over medium heat and saute shallot and mushrooms until softened and beginning to brown. Toss in rice and stir well to coat. When it just starts to stick, reduce heat to low and add up to one cup of wine, making sure some ends up in the chef as well. Those who abstain from alcohol can just start using stock at this point. As the liquid is absorbed add stock and stir often to prevent sticking. Lazy chefs can add more stock at one time. Just stir to prevent sticking! Keep adding stock or water until the rice is tender and no hard center bits remain. You can judge this by eye with practice, but tasting before adding more stock is fine. To finish stir in the tarragon. Serve and top with more truffle oil and cheese if desired.
Photo by Jennifer Sternfeld