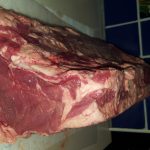 I love being a chef. People ask food questions all the time. They volunteer recipes, and sometimes even gift food to me unannounced. Yesterday was one such day.
I got a call "Hey, can you use a rib and short loin of beef?" "Still wrapped, but you'll have to cut them down".
What else can one say but "SURE!"?
I spoke to a neighbor who had given me venison in the past and asked if his butcher pal could loan me a saw for the bones. I offered a few steaks for the loan. A few hours later, after I had picked up the beef and rushed it home in my cooler, he got back to me with "just use a hacksaw". So off to the hardware store I went.
The last time I cut down anything this large was a few hour class in Boning at Cordon Blue in Ottawa, in 2001!
Chicken, or the occasional small roast or fish is all I ever do as a personal chef. I decided to look at this as a challenge. Sadly, my saw purchase, or perhaps my arm, were not up to the strength of the bone.
I changed course at this point and set out to cut down the short loin into strip steaks and tenderloin.
Thanks to some handy tips from my mom, a former butcher, and my notes from the long ago class, that went much better, and I amassed a sizeable pile of each to share with family and friends.
I also contacted some wine loving pals to come for dinner. They brought some lovely Chilean Cabernet and went home with a supply of steaks. Fortunately one was also able to get through the last of the bone, giving me two reasonable pieces that would fit in my largest stock pot. So in 90 degree weather, I was making beef stock and hosting an impromptu dinner party.
Oh well, when life hands you beef, grill!
Photos by Jennifer Sternfeld