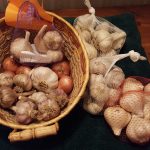 Fall in Upstate NY is always my favorite time of year. Exceptionally busy, but fun!
So far I have done several parties for end of summer or beginning of fall in the Adirondacks, a demo at the Schenectady Greenmarket, where I did my mushroom risotto, the Mohawk Valley Garlic Festival, the haul of garlic which is featured to the left, and several quick day trips to Oneonta and Utica!
I was the Fresh Taste Table "local expert" at the September 18th, 2016 Schenectady Greenmarket.
It was cool and rainy, so it was a perfect first demo date. There is a cadre of local market shoppers that come out no matter what the weather (me included usually!), so it wasn't quiet, but a nice steady flow of folks. The skies cleared in the afternoon, so it got busier as the day went on. Some people were convinced I was selling the risotto I had on offer, and quite a few were surprised that vegan food could be so tasty. The basic risotto was mushroom broth based, with a bit of local shallot. I did have some non-local cheese or almonds to add for those who wanted a bit more umami. Several friends stopped by to chat, and most of the market vendors tried some risotto by lunchtime, so I felt very much a part of the vibrant community by the end of the day. I would be happy to do another market demo, and I have a new respect for all the vendors who do this week after week!

Thank you to Stephanie Marie of FoxyTrot Dance for the lovely photo of me handing out samples at the market.
Another huge thank you to Vintage Flavor Aprons for my custom chef jacket!
This past weekend was all about relaxing after so many busy weekends. Hubby and I wandered and ate our way through several local cities, admired the leaves just starting to change on I-88 and took in a comic book show.
I will end with my pumpkin cannoli from Carmella's Cafe in New Hartford, NY from Sunday: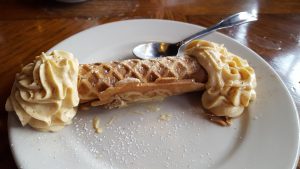 NY is yummy!
Photos by Jennifer Sternfeld except as noted