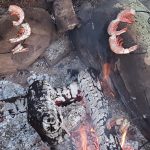 Labor Day in Upstate New York is a common cookout holiday. This year was quiet business-wise, with no end of summer parties for Dinner Vacations to cook. Fortunately, we were blessed with an invite to a friend's camp on Crooked Lake.
Of course I asked if I could bring anything to share to eat. I was told yes, anything I liked. Only qualification, it had to be precooked, or able to be cooked over a simple fire since the camp is still a work in progress. The kitchen does have a refrigerator, but no cooking appliances yet.
The weather dawned beautiful on Labor Day proper. Hubby had to work a bit in the morning, so I whipped up a pasta salad of shells, cherry tomatoes fresh from the Schenectady Greenmarket on Sunday, shitake "bacon", fontina cheese, oil cured black olives, olive oil, and mixed herbs. I also plotted what entree I could bring to share.
I decided on shrimp. The shrimp were large Argentine wild caught ones, still in the shell. I also grabbed my trusty metal circle kabob skewers since I wasn't sure of the fire size. These ones from Charcoal Companion are billed as fitting on standard dinner plates for "elegant presentation". They also fit well on grills with no falling through standard grates. They are fairly compact so you can lay them yin and yang style overlapping each other. All these facts I knew. Once shown the fire pit ringed by rocks, I found yet another positive trait. They can be hung on random rock edges, to get indirect heat and keep the main area of the fire clear for tending, or other direct heat grilling.
My "asbestos hands" and a set of metal tongs were sufficient to get MOST of the shrimp to hang neatly and cook without too much trouble.
After a dip in the lovely, if a bit chill lake, roughing it never tasted so yummy!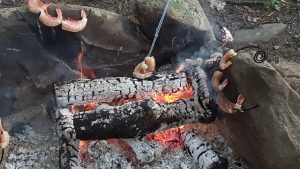 Photo by Jennifer Sternfeld